---
Notice of Intent to Procure - Community-Based Mobile Crisis Intervention Services (8/1/2022)
The Department of Mental Health released a notice of intent to procure on August 1, 2022. The submission period ended August 31, 2022. Letters of Intent were received from the following entities (including geographic coverage area):

Clara Martin Center (Orange County)
Counseling Service of Addison County (Addison County)
Howard Center (Chittenden County)
Health Care and Rehabilitation Services (Windham & Windsor counties)
Lamoille County Mental Health Services (Lamoille County)
Northwestern Counseling & Support Services (Franklin & Grand Isle counties)
Northeast Kingdom Human Services (Caledonia, Essex, & Orleans counties)
Rutland Mental Health Services (Rutland County)
Washington County Mental Health Services (Washington County)
AW Holdings, LLC d/b/a Benchmark Human Services (Statewide)
MedTrust, LLC (Statewide)
Community Bridges, Inc. (Statewide)
Background
The Vermont Agency of Human Services (AHS) is one of 20 states that received a federal planning grant to support expanding community-based mobile crisis intervention services for Medicaid beneficiaries. Information about the federal grant can be found here.
This is an important opportunity to build on the State's crisis services in developing a statewide community-based mobile crisis response system that meets the needs of people experiencing a mental health or substance use disorder crisis. Comprehensive mobile crisis services can help to improve health and wellbeing of all Vermonters.
How will these planning grant funds be used?
These planning funds will be used to:
Identify ways to better coordinate across agencies and systems of care
enhance our mobile crisis services
Support integration of all mobile crisis teams and Vermont 988, a new national hotline for behavioral health crises that goes live in July 2022
Develop ways to ensure Vermont has effective and sustainable community-based mobile crisis services for years to come
Does Vermont currently offer crisis services?
Yes. While Vermont has a Medicaid benefit for mobile crisis services delivered by 10 Designated Agencies, this funding presents a unique opportunity for Vermont to expand and enhance these crisis services through tapping into increased federal funding. Crisis services currently delivered by the Designated Agencies include:
Crisis response
Inpatient screening
Court screening
Community emergency disaster response
Reassessment
Mobile outreach
Services are available 24 hours/day, 7 days/week in the Designated Agency's assigned region and may be delivered by telephone or in the community.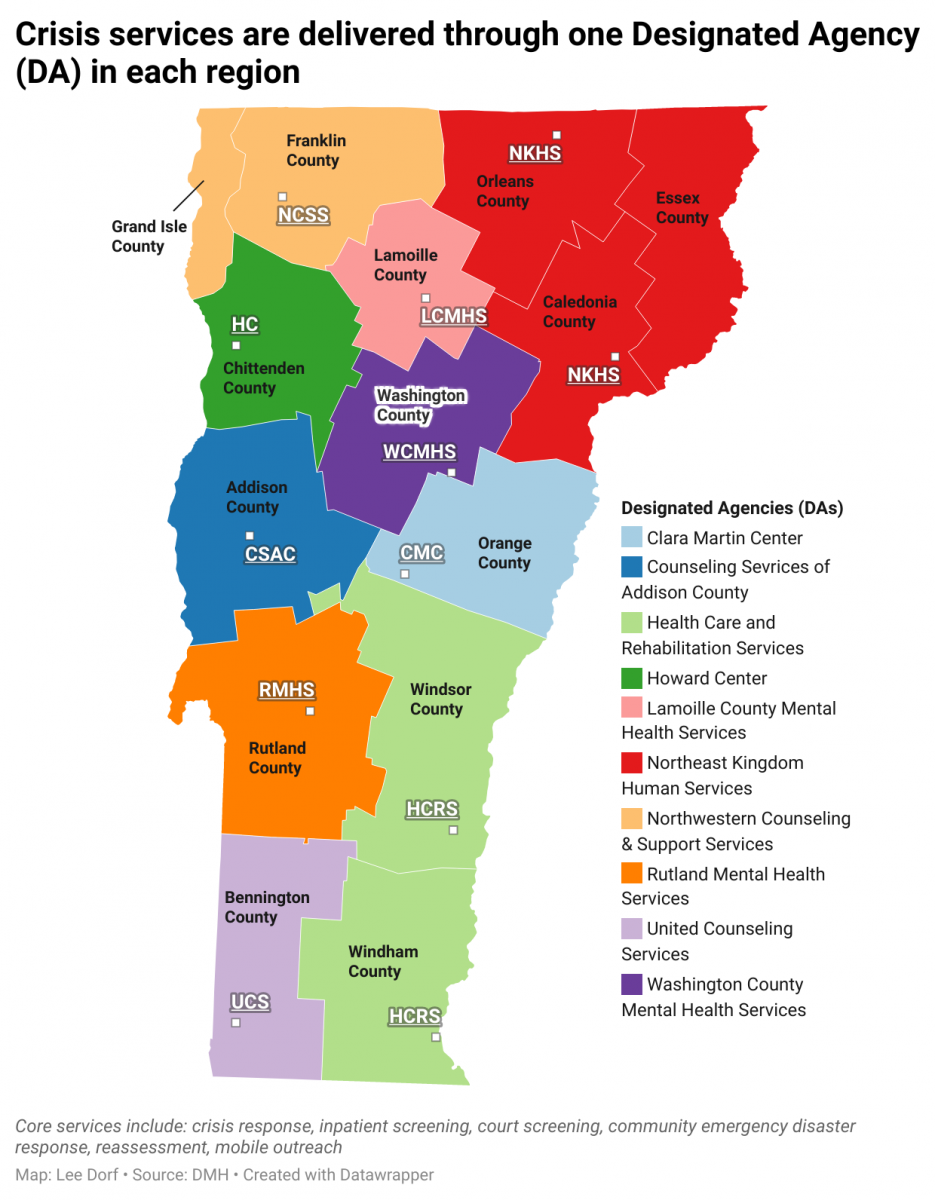 How can my voice be heard?
Interviews, focus groups, and meetings were held with consumers, families, community members, providers, community-based organizations, schools, law enforcement, state agencies, and more. A statewide survey was also conducted. Outreach efforts focused on receiving input from the populations listed below and informed findings in the Vermont Mobile Crisis Needs Assessment Report. 
Transitional age youth, families, adults, and elders most impacted by the crisis service system
Service providers and community stakeholders
First responders including law enforcement and Emergency Services
Refugees and immigrant communities
Hospitals
State leaders
Schools
People with intellectual and developmental disabilities
LGBTQI+
Public comments can be sent to: AHS.MedicaidPolicy@vermont.gov
Please include "Mobile Crisis" in the email subject line.
Meetings and Materials